11/04/2020
Interview: Dr. Wolfgang Löhnert, Austria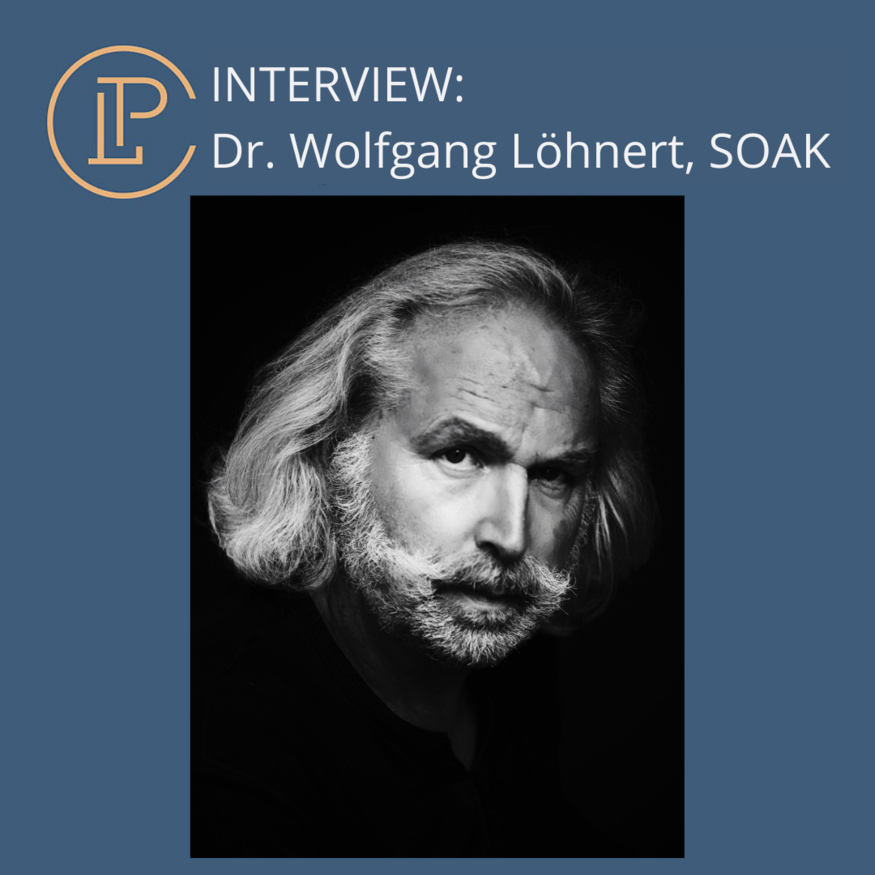 The CLP - interview series goes into the third round: After the expert round as well as the Legal Coaches it concerns now primarily special commitment in and beside the lawyer occupation. Some of them have already been honored for this commitment with prizes; in any case, all colleagues in this circle are very successful in what they do. This may be due to the rousing passion with which they are committed to their cause. Or their personal recipe for success, which they reveal to us in the end.
Who is Dr. Wolfang Löhnert?
Dr. Wolfgang Löhnert has been a registered attorney in Vienna since 1989. He was a partner in a law firm for seven years and founded his own law firm in 1998, where he is mainly active in the fields of architect and building contract law, copyright law and tourism law. He is father of two sons.
His additional activities became both hobbies and profession for him: In 1993 he took over the tourism project "Summer Academy Greece" (SOAK) on the Ionian island of Zakynthos and developed it into the largest creative holiday project in the German-speaking world.
From 2002 - 2007 he was private organizer and director of the "Summer Festival Perchtoldsdorf" near Vienna, one of the largest open-air venues for spoken theater in Austria.
Finally, for about 20 years he has been engaged partly academically with the personality and work of the Habsburg Archduke Ludwig Salvator, who is considered the most important explorer of the Mediterranean in the 19th and early 20th centuries.
#1 What does SOAK mean to you?
For me, running the Summer Academy on Zakynthos is both my profession and my calling. It is an activity that has been deeply fulfilling me for almost three decades, satisfying my need to build places where people can develop their potential and engage with art, body and soul.
#2 When did you first become involved in this field and why?
The project landed on my lawyer's desk in 1991 as a disdainful act - fraught with considerable legal and economic problems. When these were more or less resolved in the following season, the then operator decided to abandon the site, to my surprise. Since I had invested a lot of my heart and soul in the matter in the meantime (there was never a fee), I spontaneously decided to keep the badly dishevelled but charming academy alive. An exciting adventure with a very uncertain outcome began, especially since I was neither a tourist nor the director of an art school.
Also, as a young lawyer tinkering with his career, I had just three weeks to take care of the business on site, which lasted several months. The rest consisted of almost daily telephone calls with the organization management working in Greece. Somehow we survived the summer and the planning of the next one began. These days, despite the Corona virus and Medicane "Janos", we put the already 28th successful SOAK season on the beach parquet.
#3 Why Greece?
I asked myself the same question, since my Mediterranean soul had until then been more devoted to Italy and its "dolce vita". Due to my love of Greek antiquity and the fact that the Ionian Islands have a strong Italian influence (not only historically), I quickly fell in love with the "flower of the Levant" and found my second home in these Odyssey landscapes.
#4 Who are your guests?
The SOAK audience spans three generations - from 3 to 85. singles, couples, families, about 70 percent women. The latter are clearly more open, reflective and creative (laughs). They are people who, during "the most beautiful days of the year", are not only looking for classic relaxation on the beach, but also for activities with which they can develop their individual potential at their leisure. What happens in SOAK is what I like to call a "synapse party", because the occupation with up to 25 freely combinable courses per day stimulates the brain in a unique and varied way. Deceleration and relaxation come about by themselves.
#5 How did you come to the theater?
That too was based on a spontaneous - but for me, in the given situation, it was the right decision. In 2002, I made the offer to the market town of Perchtoldsdorf, just outside Vienna, to spin off the loss-making theater business into a non-profit limited liability company that I had founded, to run it for a few years at my own financial risk, and to restructure it. This way I was - as with SOAK - completely flexible as a "one-man-show" and was able to implement my ideas without significant resistance. For me, it was a unique challenge to equip the venue, which had been established for decades but had already gotten somewhat into difficulties, with new qualities as a professional "dilettante". Actors and actresses from the largest Viennese theaters finally came together in front of the picturesque backdrop of a medieval ducal castle.
#6 Does it matter that you are a lawyer and why?
I think that especially the skills I acquired in the legal profession, for example negotiating skills and analytical-strategic thinking, have helped me a lot in realizing my goals. Heribert Prantl from the SZ once said: "Legal thinking works like a key. It unlocks things". I can only agree with that.
#7 Who supports you in this or with whom do you prefer to work together?
In SOAK, I have been working with an unchanged and well-rehearsed core team from the very beginning - especially my wonderful organizational management on site. There is no hierarchy in the classic sense, everyone has his or her own area of responsibility, which they think and act independently at eye level.
For about ten years now, I've been spending three months every summer on the island, setting certain additional accents that are good for the project (and for me as well).
#8 Your very personal tip for success:
Success comes when you do something that makes you happy and for which you are passionate.
Finding the right fireplace, lighting the flame and stoking the embers is the challenge in life.
Thank you very much.
Look forward to further extraordinary personalities and be inspired!
You can find more interviews here.
More from Dr. Wolfgang Löhnert here:
www.sommerspiele-perchtoldsdorf.at